Tuesday, December 15, 2009
You Ain't Woman Enough :
You call to tell me something
You say I oughta know
That he don't love me anymore
And I have to let him go
You say you're gonna take him
Oh but I don't think you can
Because you ain't woman enough to take my man

Women like you, they're a dime a dozen
You can buy 'em anywhere
For you to get to him I'd have to come over
And I'm gonna stand right here
Well it'll be over my dead body
So get out while you can
'Cause you ain't woman enough to take my man

Sometimes a man goes lookin' at things that he don't need
He'd take a second look at you
But he's in love with me
Well I don't know where they leave you
Oh but I know where I'll stand
And you ain't woman enough to take my man

Women like you, they're a dime a dozen
You can buy 'em anywhere
For you to get to him I'd have to come over
And I'm gonna stand right here
It'll be over my dead body
So get out while you can
'Cause you ain't woman enough to take my man
Oh you ain't woman enough to take my man
Posted by

TVChefsWithoutPity
at 2:15 PM
No comments:

Monday, December 14, 2009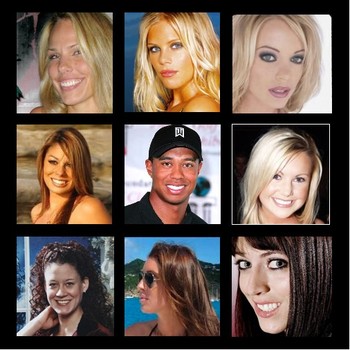 In the old days women, such as the ones above that Tiger Woods has been accused of having affairs with, would have been run out of town and forced into hiding. Nowadays they invite them onto talk shows and give them advice columns.
Why are these 2 Bit Whores NOT hiding their faces and staying inside their apartments?
And why are they being forced down our throats daily?
Posted by

TVChefsWithoutPity
at 7:01 PM
No comments: